HORIZON HOUSING ALLIANCE
AFFORDABLE HOUSING WITH
BEST-IN-CLASS PROVIDERS
We have a collection of experiences to effectively deliver on our mission across the State of Washington. We are driven to help produce more units of housing for those most in need quickly and efficiently based on a track record of proven models.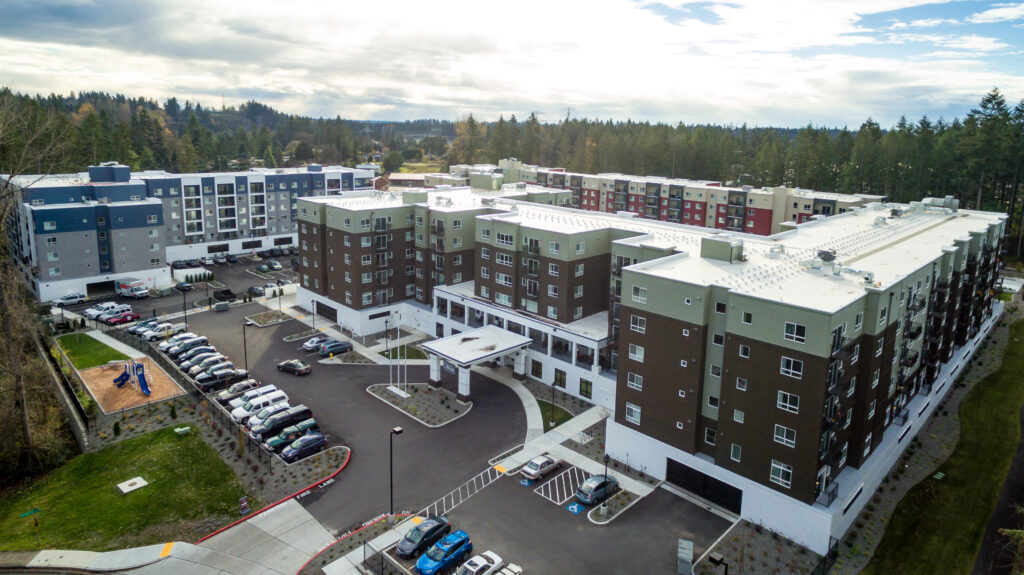 Marty J. Dickinson
Creative Director
Marty has led successful teams across a wide range of industries. Having more than 27 years of marketing, branding, communications and organizational management experience, she is passionate about leading others through change and helping teams look forward.
As the Chief Marketing Officer at STCU she is responsible for brand marketing, community relations, government affairs and facilities. Prior to her role at STCU Marty served as executive vice president of culture enhancement at Umpqua Bank and executive vice-president at Sterling Bank. Marty served as the president of the Downtown Spokane Partnership for six years, where she helped attract more than $3 billion in urban reinvestment to enhance Spokane's downtown district.
A graduate of Washington State University, Marty serves on the Board of Regents for Washington State University, Public Facilities District Board of Directors, State of Washington Regence/Blue Shield Foundation Board, and Executive Board member of the Association of Washington Businesses.

Rob McCann
Creative Director
Dr. Robert J. McCann, President and Chief Executive Officer of Catholic Charities, oversees a $28 million annual budget, 360 employees and over 6,300 volunteers. Rob has been with Catholic Charities Eastern Washington for the past 20 years. Rob holds a BA degree in American Studies and Political Science from Fairfield University, a Master's degree in Organizational Leadership and a Doctoral degree in Leadership Studies from Gonzaga University. Rob has spent his entire adult life working in Catholic social services, serving in various countries overseas for several years with Catholic Relief Services and spent two years as a Jesuit Volunteer right out of college. Rob spent eight years as an appointee to the United States Catholic Conference of Bishop's National Advisory Committee. Rob currently serves on the Boards of Empire Health Foundation FIN Board, the Catholic Charities USA National Board of Trustees, Nazareth Guild, Gonzaga University School of Education Advisory Board, Washington State Catholic Conference Board, the Spokane County Human Rights Task Force, and the Community Court Advisory Board.

Jennifer West
Developer
Experienced in leadership, operations and board governance, Jennifer is passionate about helping to advance the region's economic development initiatives. As founder and principal of JPW Communications, a communications advisory firm, Jennifer's career has spanned more than 30 years as a leader in public relations agency management and reputation management consulting for regional and multi-national agencies. Her client experience includes corporate, B2B and consumer facing brands, including real estate and financial services. Jennifer has long been actively involved throughout the Pacific Northwest by serving on boards of for-profit, not-for-profit and philanthropic organizations that support social and economic development within their communities. Currently, she serves as a director for the Spokane International Airport.
John Pilcher
EXECUTIVE DIRECTOR
John has over 30 years of executive leadership experience in both public and private organizations. Highlights include Economic Development Director and Chief Operating Officer, City of Spokane and Chief Executive Officer of the Spokane Club. Mr. Pilcher also has experience developing both residential and commercial properties in multiple jurisdictions and has professionally managed portfolios of commercial real estate across the western US.
Emily Maiani
VP-FINANCE
Emily has over 12 years of financial and budgetary experience in both public and private organizations. Mrs. Maiani has managed a residential real estate portfolio for over 10 years and recognizes the importance of making housing affordable. She has worked in a low-income legal service to both serve the community and complete grants to further fund the legal service.
Hunter Healey
Development Manager
Hunter has over 7 years of experience in commercial and residential real estate, previously engaging in both brokerage and housing development for multiple private organizations. Although new to the world of affordable housing, Hunter understands the needs of low-income families and individuals and is grateful for the opportunity to use his real estate industry experience to make a difference in his community.